Aromatherapy
Aromatics International is a great go-to for Essential Oils and supplies.
Shop Now!
---
See Civil War History Come Alive
(and it's not all about the battles!) Visit a Civil War Reenactment
Enjoy historically-accurate lifestyle presentations by skilled reenactors who invest personal time and funds into providing the community with a visit back in time.  Battles are normally held in the afternoon, with camp tours available afterward.
Milsurpia List of Civil War Reenactments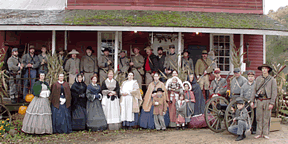 ---
Civil War plant medicines blast drug-resistant bacteria in lab tests
Confederate field hospitals turned to traditional remedies under Union blockade
Date: May 22, 2019

Source: Emory Health Sciences

Summary: A new study based on a mostly forgotten guide to medicinal plants, 'Resources of the Southern Fields and Forests,' focuses on three of the plants and shows they inhibit bacteria associated with wound infections.
Links on this page are affiliates that we believe our viewers may find of interest. In some cases we may receive compensation from these companies. Please refer to the company's websites for Privacy Policies and other concerns regarding doing business with them as a customer. CivilWar.net is unrelated to the business in any way, other than offering them to our viewers as a possible resource for online products.