Vivandieres first appeared in France as women who were part of a regiment and sold spirits (an alcoholic drink) and other items and cared for the sick. These women wore uniforms similar to that of the regiment in which they served, and they displayed great courage by giving immediate medical assistance to the wounded in the midst of battle. When the Civil War began in 1861, hundreds of American women were ready to brave those same conditions for the Union Army.
Uniforms of vivandieres in the American Civil War varied from regiment to regiment. All had in common a knee-length skirt worn over full trousers, a tunic or jacket, and a hat. This style of costume was similar to bathing costumes depicted in fashion magazines of the period and was suitable for the outside exercise required of vivandieres who lived and marched with their regiments. There was a great deal of variation in trim and materials.
Kady Brownell
In the early 1860s, Kady McKenzie worked as a weaver in the mills of Providence, where she met and fell in love with Robert Brownell. With the outbreak of the Civil War in April 1861, Robert joined the 1st Rhode Island Infantry; Kady was determined to serve with him. She asked Rhode Island governor William Sprague to take her with him to Washington DC where she found Robert, and they were married.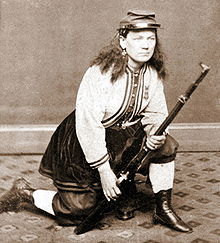 The 1st Rhode Island Regiment's commander, Colonel Ambrose Burnside appointed Kady Brownell vivandiere and color bearer of the regiment. At the First Battle of Bull Run (July 1861), she held the regimental flag high as Confederate bullets were flying all around her. After enlisting in the 5th Rhode Island Infantry with her new husband, she served at the Battle of New Bern, North Carolina (1862). Brownell remained in New Bern after the battle, caring for her wounded husband. After his recovery he was deemed unfit for battle, and both Brownells were discharged.
Defining the Vivandiere
The term 'vivandiere' is difficult to describe – it meant different things to different people in different locations. The 'In the Swan's Shadow' website explains it thusly:
The role of the vivandiere … goes back to France in the Imperial Army and became a fixture with the Zouaves. In truth, mention of them goes back to the 1600s, but the role interpreted and taken up by those of the American Civil War is firmly rooted in the Napoleonic Wars. A vivandiere was a woman who filled several roles as needed: water bearer; a seller/distributor of food and creature comfort items like whiskey and tobacco; a nurse, a laundress, a mascot for shoring up morale; and many other incidental ones that came up as circumstances warranted. There were similar ladies called cantinieres, but at least early on there was a distinction between the two; vivandieres could accompany a unit onto the battlefield, while the cantinieres were to remain behind in camp. It has been noted that vivandieres did occasionally fight with their men.
Zouave Vivandieres
Zouave soldiers were originally members of the French infantry composed of Algerian recruits who were noted for their colorful uniforms. Another excerpt from 'In the Swan's Shadow':
Zouaves were a specific type of French soldier, who were stationed in North Africa for the most part. The name stems from the Berber tribe from which they were first recruited in Algeria, the Zouaoua. Their uniforms are varied, yet distinctive in their related components, generally consisting of exotic (Middle Eastern) cuts of jackets, baggy trousers, and some form of headdress, ranging from a fez to a turban. Many uniforms sported embroidery and other elements to further set themselves apart. For many years Zouave units were considered elite troops and saw meritorious service wherever they were deployed. And where there were Zouaves, there were vivandieres.
Mary Tepe of Collis' Zouaves
When the Civil War began, French-born Mary Tepe and her husband Bernard both joined the 27th Pennsylvania Volunteer Infantry Regiment, popularly known as Collis' Zouaves. Captain Charles H.T. Collis had organized the original company of that regiment as the Zouaves d'Afrique in August 1861. Tepe became a vivandiere with that unit. Collis then raised nine more companies to form the 114th Pennsylvania Infantry Regiment in August 1862. Like the original company, the 114th was based on the renowned North African and European Zouave regiments of the French army. The soldiers of the 114th wore a Zouave uniform; so did Mary.
French Mary Tepe owed her nickname to her accent. In her role as a Zouave vivandiere, French Mary Tepe wore a blue jacket, red pants, and a blue skirt trimmed in red. She participated in the Battle of Fredericksburg (December 13, 1862), during which she received a bullet wound to one of her ankles. For her bravery, she was awarded the coveted Kearny Cross, which was given to members of the First Division, III Corps in memory of its previous division commander, General Philip Kearny, who had been killed in action at the Battle of Chantilly (September 1, 1862). After a short hospitalization Tepe rejoined her regiment.
In July 1863, Mary and the 114th PA fought at the Battle of Gettysburg. When the battle was over, Mary volunteered her services as a nurse. A few weeks later, her nursing work at Gettysburg completed, she continued with her regiment and served throughout the remainder of the American Civil War. Tepe participated in many Grand Army of the Republic activities and post-war regimental reunions, proudly sporting her Kearny Cross. Her ankle injury plagued Tepe throughout her life.
Annie Etheridge, Vivandiere
In April 1861, Annie Etheridge joined nineteen other women who enlisted as vivandieres with the Second Michigan Volunteer Regiment. Annie served throughout the rest of the war with the Third and Fifth Michigan Regiments. She became famous for her bravery under fire; after a battle, her skirt was always riddled with bullets. She carried pistols for her protection, saddlebags filled with medical supplies, and she frequently rode on horseback to the line of battle to aid wounded soldiers. She served at the First and Second Bull Run, Antietam, Gettysburg, and Fredericksburg.
She was wounded at the Battle of Chancellorsville, after General George B. McClellan ordered all women out of the camp temporarily. Etheridge had been on the front lines when she was ordered to the rear. As she rode back, a musket ball grazed her hand – it was the only wound she ever received, despite often running or riding through enemy fire to aid the wounded. Immediately after the Battle of Chancellorsville, General David Birney awarded Annie with the Kearny Cross.
In 1864, General Ulysses S. Grant ordered all women out of Union army camps. A long list of officers signed a petition and sent it to General Grant, begging him to allow Etheridge to continue her work on the battlefield. After that, 'Gentle Annie,' as she was called, worked for the Hospital Transport Service, which ferried wounded soldiers to military hospitals in the North aboard old paddle wheel boats that had been converted to be used for that purpose.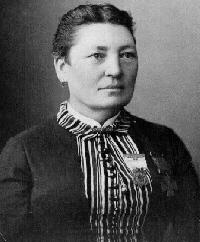 Assigned to the boat Knickerbocker, she worked with the excellent nurse Amy Morris Bradley to transport hundreds of injured soldiers from ports such as Alexandria, Virginia to large hospitals in Philadelphia, New York City, and Washington DC, which were better equipped to handle their recovery.
Etheridge's service ended with the Fifth Michigan in Detroit on July 1, 1865.
One man she tended in a hospital, George Hill, wrote Etheridge a letter expressing his gratitude for her kindness: "May God bless you, both now and forever, is the wish of your grateful friend, George H. Hill, Cleveland, Ohio." Color Sergeant Daniel Crotty of the Third Michigan wrote this about Annie Etheridge in his book Four Years Campaigning in the Army of the Potomac:
The world never produced but very few such women, for she is along with us through storm and sunshine, in the heat of the battle caring for the wounded, and in the camp looking after the poor sick soldier, and to have a smile and a cheering word for every one who comes in her way. Every soldier is alike to her. She is with us to administer to all our little wants, which are not few. To praise her would not be enough, but suffice to say, that as long as one of the old Third shall live, she will always be held in the greatest esteem, and remembered with kindly feelings for her goodness and virtues.
Soon after the war ended, she married and worked in the United States Treasury Department, eventually receiving a monthly pension of $25 for her unpaid military service. She died January 23, 1913 and was buried with full military honors in Arlington National Cemetery.
SOURCES
Wikipedia: Annie Etheridge
Gilder Lehrman: Women in the Civil War
Soldiers Magazine: Vivandieres and Spies